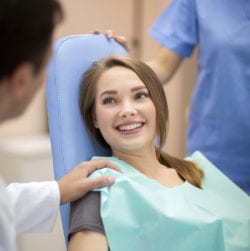 Straightening crooked teeth is necessary for all patients. We understand that patients, especially teens, want a discreet solution for addressing their orthodontic issues. Invisalign is a great way to discreetly and safely straighten crooked and misaligned teeth.
Not only is this revolutionary orthodontic treatment ideal for adults, but it is also ideal for teens.
Invisalign is a clear aligner system that uses clear, removable aligners to straighten crooked or misaligned teeth gradually. The aligner eliminates the need for metal wires, brackets, and bands that are commonly used for traditional metal braces. Teens choose Invisalign for its comfort, discretion, and effectiveness.
Our team at Smile Dental Group can work with your teen to determine if Invisalign is right for their dental needs. Visit us to explore Invisalign treatment.
Invisalign Treatment For Teens
Invisalign offers teens a nearly invisible way to address their orthodontic concerns. It may be used to address:
Crowded Teeth
Underbite
Crossbite
Overbite
Gap Teeth
Open Bite
Achieve Straighter Teeth
Patients can enjoy the benefits of removable aligners, which allow them to eat, drink, and perform their daily oral hygiene routine without any restrictions. Teen patients can also remove their aligners for big events like prom, picture day, or parties. However, to achieve the full result of Invisalign, it is important that patients wear their aligners for the recommended 20-22 hours a day.
For Invisalign Teen, there is a blue dot on each set of aligners that tracks how often the patient is wearing them; this helps our team keep track of progress and also allow parents to keep an eye on how often their teen is wearing their aligners.
Schedule A Consultation
If you are located in Palmdale or the surrounding Antelope Valley area, visit our team at Smile Dental Group. We offer a complete range of orthodontic treatments, including Invisalign. We work with patients of all ages to deliver the dental care they need. If you would like to set up an appointment, contact our office or request an appointment online.