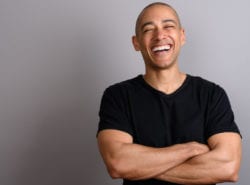 When the even one tooth is lost, it can have adverse effects on your oral health. Replacing missing teeth can not only restore health and function to your smile, but it can also improve your overall confidence.
Our team at Smile Dental Group can work with you to find the most ideal solutions for missing teeth. After a thorough dental examination, we can recommend the most appropriate solution for your dental needs. We offer a wide range of tooth replacement options, including dentures, dental bridges, and dental implants. To offer our patients a more complete dental experience, we provide full-service dental implants in our Palmdale, CA.
Why Should I Replace Missing Teeth?
Replacing missing teeth is key to restoring your oral health and oral function. Losing one tooth can lead to a domino effect of oral health issues. When you lose a tooth, the remaining teeth shift in an effort to close the gap; this can lead to crooked or misaligned teeth. One of the most detrimental results of missing teeth is bone density loss. Similar to the muscles, when the bone is not stimulated it can begin to weaken and break down over time.
If you are missing a full arch of teeth, bone density loss is even more pronounced. Patients missing a full arch of teeth may develop facial sagging which may result in a sunken facial appearance. In addition, patients with missing teeth may also suffer from poor nutrition because they have difficulties chewing certain types of foods.
If you are missing one or several teeth, it is important to explore your tooth replacement options as soon as possible. Replacing lost teeth can get you one step closer to a healthier smile.
What Are My Tooth Replacement Options?
The best solutions for tooth replacement will depend on the needs of the patient. For patients missing a full arch of teeth, dentures may be the best solution. If they are seeking a more secure solution, we may recommend an implant secured denture. After we exam your teeth, discuss your cosmetic goals and review your dental history, we can recommend which type of tooth replacement is right for you.
Dental Implants: Implants are commonly referred to as one of the most successful tooth replacement options on the market. They are designed to replace the tooth root as well as the visible portion of the tooth, making them the most complete tooth replacement solution. Dental implants can be used to replace one or more teeth.
Dentures: This option is used to replace a full arch or both arches of missing teeth. Dentures can be removable or fixed into place using several strategically placed dental implants.
Dental Bridges: This solution is commonly used to bridge the gap between missing teeth. Dental bridges can be fixed into place using dental crowns and neighboring teeth or dental implants. Implant secured dental bridges does not have to rely on neighboring teeth for support, therefore maintaining the integrity of the surrounding teeth.
Visit Our Palmdale Dentist Office
Would you like to explore your tooth replacement options? Visit our team at Smile Dental Group in Palmdale, CA. Our team works with you to find the best solutions for your smile. Visit us to discover if dental implants, dental bridges, or dentures are right for you. To schedule an appointment, contact us or request an appointment online.