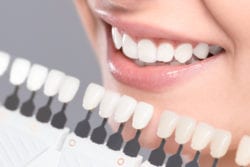 Your life will have big moments — moments when you'll want to look and feel your best. Maybe you're about to walk down the aisle with the person of your dreams? Maybe you have a big interview coming up for the job you've always wanted? Or maybe you're finally about to close that a major deal at work and need to impress your clients? But maybe you're self-conscious about your smile because your teeth aren't so pearly or white anymore. Maybe your smile and your confidence need a boost?
If this sounds like you, professional teeth whitening treatments may be just the ticket to help you smile like you mean it! If you are in the West Lancaster CA area and are considering professional teeth whitening, Smile Dental Group can help.
How Do Teeth Get Discolored?
Even the most dedicated brushers and flossers will still see some discoloration of their teeth naturally over time. Teeth are meant to be eaten with and everything we eat or drink affects the enamel of our teeth. However, this discoloration can happen faster when helped along by other factors such as smoking or chewing tobacco or daily drinking of coffee, tea, cola or red wine. Even the use of certain prescription medications can cause stains on teeth.
Following the oral hygiene regimen recommended by most dentists — brushing twice daily and flossing at least once daily — can slow the discoloration of your teeth and help them stay brighter and healthier longer. However, it can't be reversed by brushing alone.
Smile Dental Group in West Lancaster CA offers patients the option of in office or take home teeth whitening from Zoom! Whitening. Both types of Zoom! treatments can erase years' worth of stains and restore a more youthful appearance for your teeth. Sporting a fresh, white smile could be just what you need to help you feel ready to meet whatever challenges lie ahead.
In-Office Teeth Whitening
Our fastest method of Zoom! teeth whitening is the in-office procedure. In a little over an hour, this procedure can lighten your teeth by up to ten shades. Although your results will depend on the source and severity of the stains on your teeth, with certain stains being more difficult to erase completely, results will be noticeable after just one session. Your Smile Dental Group dentist will discuss expected results prior to your treatment during your consultation.
The process of in-office teeth whitening begins with a protective barrier for your gums. Next, we coat your teeth with a layer of maximum strength bleaching gel. The bleaching power of the gel is activated by applying a special no-heat lamp. This process will be repeated three times during your visit to achieve best results.
At-Home Teeth Whitening Kit
Our most convenient method for removing stains from your tooth enamel is at-home Zoom! Whitening kits. Your Smile Dental Group dentist creates custom-fitted bleaching trays for your teeth in the office that you will use at home with the bleaching agent. The take home kit from Zoom! will provide superior whitening to over the counter options such as whitening strips and toothpastes that your local drugstore or big box store selling.
At home, you will fill the trays with the bleaching gel and fit them over your teeth for the prescribed amount of time daily, usually overnight while you are asleep. The bleaching gel — infused with fluoride — will remove stains and reduce sensitivity while strengthening your tooth enamel. After about a week of nightly use, your teeth will look dramatically whiter.
All Zoom! teeth whitening products are specially formulated to minimize sensitivity and your Smile Dental Group dentist carefully supervises teeth whitening treatments to ensure safe use and best results.
Teeth Whitening in West Lancaster, CA
To discuss which teeth whitening treatment would best help you meet your dental hygiene goals, schedule an appointment with the skilled team of dental professionals at Smile Dental Group in West Lancaster CA by calling 661.383.0186 or request an appointment online.