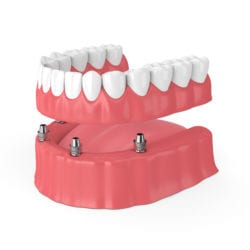 Your life can change with just one visit to our East Lancaster, CA dentist office. Smile Dental Group offers our patients a revolutionary treatment that can replace a full arch of missing teeth in only one day. Your Smile Dental Group can remove teeth and secure a dental prosthesis anchored by only four dental implants in just one trip to the dentist.
All About Implant-Secured Dentures
Implant-secured dentures are a state of the art tooth replacement method that allows your dentist to replace damaged or missing teeth in just one visit. Through state of the art 3-D imaging combined with precise and extensive treatment planning, even patients with degraded jaw bone tissue can now benefit from implant secured dental restorations.
For patients dealing with the embarrassment of ill-fitting dentures, implant-secured dentures are permanently attached for a more comfortable and better functioning bite. Implant-secured dentures also improve the stability and health of the jawbbone.
With just four tiny titanium dental implants, your Smile Dental Group dentist can secure a denture for a better fitting dental restoration with added oral health benefits. Dental implants stimulate the growth of healthy bone tissue around the implant, preventing deterioration of bones and shifting teeth. Patients who receive implant-secured dental restorations also enjoy the increased confidence of a secure and well fitting dental restoration that will not slip when you talk, smile or eat.
Implants can provide a lifetime of healthy, confident smiles. Smile Dental Group will help patients learn how to properly care for their implants for long term success. For implant-secured dentures procedure, four implants will be placed in the jaw bone in locations that your dentist has determined have enough healthy jawbone tissue to support the implants.
Temporary dental restorations will be placed at the time that the implants are embedded. Once the site is fully healed and the implants have integrated with the jaw, the final restoration will be designed and permanently attached.
Dental restorations are custom-made from highly durable and natural looking materials so that your new smile will look and feel natural.
Schedule A Consultation
Smile Dental Group offers dental implant consultations in our East Lancaster office. This appointment with one of our skilled and professional dentists will provide you with the opportunity to learn more about how dental implants can resolve your dental issues and restore your smile. To schedule your appointment, request an appointment online or call (661) 302-4416 today.