Dental problems can often have a wide-ranging impact on your oral and overall health and well being. From tooth decay to missing teeth, Smile Dental Group offers personalized dental care and comprehensive treatment plans for addressing your dental concerns in our three conveniently located Antelope Valley dental offices.
Maintaining a healthy, comfortable and functional smile will allow you to enjoy your best quality of life, including a healthy diet and confident social and professional interaction. Our dentists are committed to meeting your needs with advanced treatment options, leading dental technology and dentistry that is tailored to your specific needs and goals. We screen for developing concerns during routine dental visits in an effort to help patients avoid dental problems and the need for extensive or invasive procedures. Treating dental concerns as early as possible is the key to minimizing permanent damage to the teeth and gums.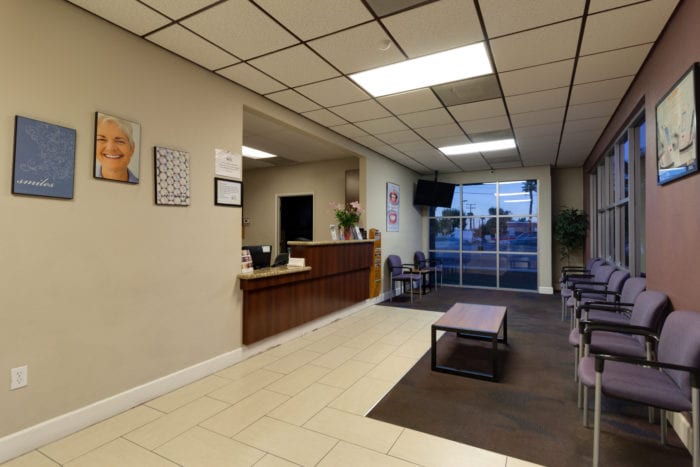 Tooth pain or sensitivity?
Tooth pain and increased sensitivity to hot or cold can be the sign of a range of concerns and should be addressed as soon as possible. Our dental team will evaluate the condition of your dental health to determine the cause of your discomfort and recommend appropriate treatment. Sudden or sharp tooth pain may indicate an infection, and we recommend that you contact our office immediately for advice on how to proceed.
Chipped or cracked tooth?
Tooth damage should be repaired quickly to avoid further damage or even tooth loss. From tooth bonding to crowns and veneers, Smile Dental Group can restore your damaged teeth and stabilize your dental health. Chipped and cracked teeth are more susceptible to decay and weakened tooth structure may impact the overall integrity of your smile.
Crooked teeth?
Smile Dental Group offers a range of treatment options for malocclusion and crooked teeth. We offer dental veneers, tooth bonding and orthodontics to straighten your smile and improve your dental health. We are also a leading Invisalign provider in the Palmdale and Lancaster area. We offer clear braces for teens and adults, creating beautiful smiles that also support long-term oral health and wellness.
Missing teeth?
Smile Dental Group offers complete care under one roof for dental implants. We also offer dentures, dental bridges and implant dentures for replacing lost teeth and restoring your ability to chew and speak confidently. Our dentists have advanced training in implant dentistry and can help you get back to smiling comfortably again with treatment that is personalized to your needs and cosmetic goals.
Dental anxiety or fear?
Fear of the dentist and dental anxiety are leading causes of poor oral health among adult patients today. Our dental team takes a compassionate approach and works with anxious or fearful patients to help them feel relaxed during their visits. We take a patient-focused approach to your care and take the time to answer your questions, address your concerns and educate you on all aspects of your dentistry. We also offer dental sedation and pain-free local anesthetics using the Wand.
Bleeding Gums?
Gum disease is a leading cause of tooth loss and is largely preventable with routine dental care and good oral hygiene at home. We offer individualized care and advice for treating and avoiding gum disease, helping patients understand their unique risk factors and hoe to keep their gums healthy between visits. Bleeding gums, irritated and swollen gums can be the early signs of developing gingivitis and should be addressed quickly.
Are You Snoring?
Snoring may be the sign if an underlying sleep disorder such as obstructive sleep apnea. OSA can have a range of signs and symptoms in addition to snoring and is a growing health concern that raises the risk for cardiovascular and systemic disease for the patient. Smile Dental Group can work with patients diagnosed with sleep apnea to provide a custom oral appliance that can reposition the jaw to prevent snoring.
Welcoming New Patients
Smile Dental Group welcomes new patients from many local communities to our Palmdale, East Lancaster and West Lancaster offices. To schedule an appointment with one of our dentists contact us or use our online request form.
East Palmdale: (661) 463-6530
West Lancaster: (661) 383-0186
East Lancaster: (661) 302-4416