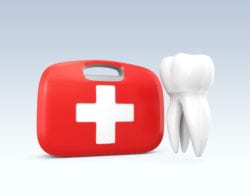 In the event of a dental emergency, contact your local Smile Dental Group office:
East Palmdale: (661) 463-6530
West Lancaster: (661) 383-0186
East Lancaster: (661) 302-4416
Dental emergencies can strike anyone at any time. Knowing the appropriate steps to take in the event of a dental emergency can save you or your child time, money, and discomfort in the long run. Dental emergencies can stem from poor oral hygiene and may be a result of dental trauma. If you have experienced damage to the teeth, it is important to seek treatment as soon as possible.
Smile Dental Group is a full-service dental facility in Antelope Valley. Our team of highly trained, compassionate dentists is committed to helping patients receive the dental care they need to restore health to the smile. In the case of a dental emergency, please contact our office. We offer a full range of general, cosmetic and restorative dentistry services for patients of all ages. For patients with damaged restorations, our office is equipped with advanced dental technology, like CEREC, to help build custom restorations in a shorter amount of time.
Am I Experiencing A Dental Emergency?
Not sure if you're experiencing a dental emergency, call Smile Dental Group. Each of our team members is trained to assist you in your time of need. We work with you to schedule an appointment around your schedule. Our convenient office hours allow patients to find an appointment time that works for them.
In terms of what constitutes as a dental emergency, these are the most common reasons patients schedule an emergency dental visit:
Intense tooth pain
A dental abscess
A chipped or broken tooth
A knocked out tooth
Broken or loose restorations
Dental Emergency Prevention
For some, dental emergencies stem from poor oral hygiene or bad dental habits. If you haven't visited the dentist for a routine dental exam, you want to consider visiting our dental office. We often recommend patients of all ages visit our office at least twice a year for preventive care exam.
During the exam, your dentist will assess the condition of the teeth, gums, jaw, and surrounding structures to ensure they are in good health. If there are any early warning signs for complex dental concerns, our team will treat them accordingly. When you avoid visiting the dentist, serious dental issues can arise and may lead to severe dental issues such as worn teeth, broken teeth, and missing teeth. Visiting the dentist regularly is the best way to maintain a healthy smile.
For patients who play contact sports, wearing a custom mouthguard can help keep your teeth and gums protected. We offer custom designed mouthguards that fit securely and comfortably over the teeth, allowing patients to focus on their sport instead of adjusting their oral appliance.
Emergency Dentist in Antelope Valley
No matter the dental emergency, we have solutions that are right for you. If you have sustained tooth damage, contact our dentist office as soon as possible. We will work with you to schedule an appointment at your earliest convenience.