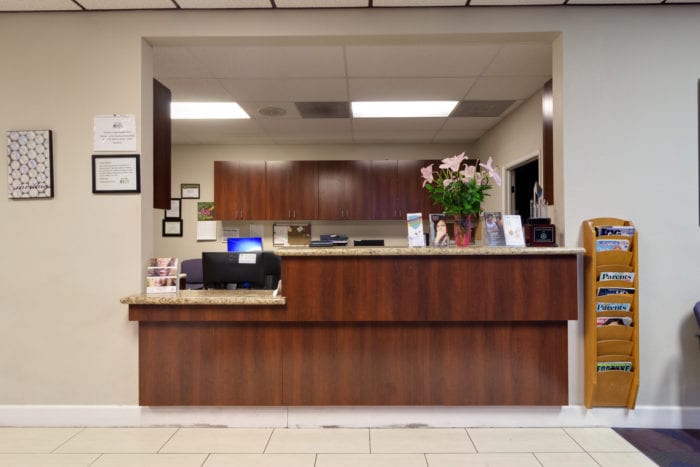 Welcome to the dental offices of Smile Dental Group. Our three convenient office locations serve patients and families in the Antelope Valley, providing personalized dental care in a family-friendly environment. Led by experienced and highly trained dentists, our dental team is committed to helping you enjoy a beautiful, healthy and comfortable smile through comprehensive care that is tailored to your needs.
Patient Comfort
We know that many patients feel anxious about a visit to the dentist. That is why we have designed our dental offices in Palmdale, East Lancaster, and West Lancaster to feel friendly, welcoming and even entertaining for our pediatric patients. From fun wall painting to personal TVs in every treatment room, our staff is committed to your comfort from the moment you enter our waiting area.
Smile Dental Group works with anxious and fearful patients and provides dental sedation options when necessary to enable you to receive the dental care you need or desire while feeling stress-free. We want all of our patients to achieve optimal oral health and feel great about the appearance of their smile. If you have concerns or have had a previous bad experience at the dentist discuss them with your Smile Dental Group dentist so that we can offer personalized care during your visit and accommodate your needs.
Special Needs Dental Care
The dentists and team at all Smile Dental Group locations in the Antelope Valley welcome patients and children with special needs. We work with them on an individual basis to ensure they receive the dental care they need in a stress-free environment. Smile Dental Group also offers dental sedation as a solution for patients who have special needs or experience anxiety, enabling them to receive multiple dental treatments during a single visit.
Patient Resources
Our dental website is designed to provide information about your oral health, our office, our services and resources for your health care needs. Please take a moment before your visit to access our patient forms, learn more about our offices and read about what to expect during your upcoming visit. We believe that patient education is the key to not only alleviating stress about your dental care but also enjoying the best possible result. An informed patient makes the best partner in choosing the most suitable dentistry for your needs and goals.
New Patients Welcome
Smile Dental Group welcomes new patients from many local communities to any of our three convenient dental offices serving the Antelope Valley. To schedule an appointment with one of our dentists contact one of our three Antelope Valley dental offices or use our online request form.
East Palmdale: (661) 463-6530
West Lancaster: (661) 383-0186
East Lancaster: (661) 302-4416