Introducing WePay…. a payment solution powered by Chase bank to help keep our patients and workers safe..
Smile Dental will no longer accept payment methods that require physical contact and can't be sterilized (credit cards ok), as a safety precaution for our staff members and patients.
WePay is a payment option that is no extra cost or hidden fees to the patient.
WePay is a simple, fast, and secure solution.
Please contact our office if you have any additional questions.
Thank you,
Your dental team at Smile Dental Group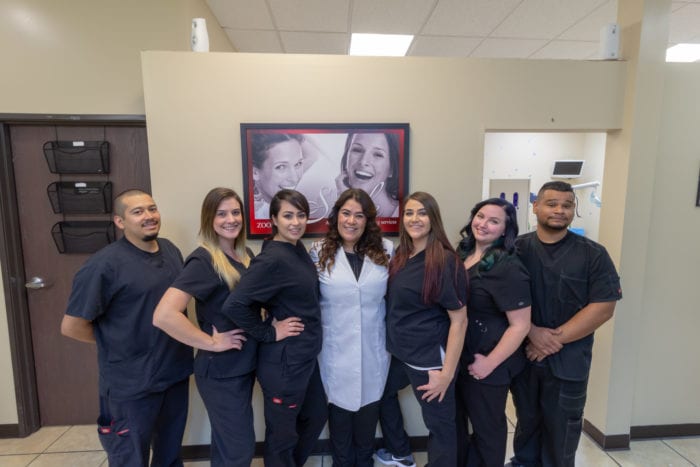 Welcome to Smile Dental Group in West Lancaster, CA
Our dental office welcomes children and adults and offers comprehensive dental care for the changing needs of your natural smile. From children's dental services to advanced dental care for complex concerns, Dr. Sanderson and our dental team are dedicated to your needs and cosmetic goals. We want all patients to achieve and maintain a natural smile that is healthy, comfortable and beautiful, supporting their best possible quality of life. From routine dental care to dental implants and Invisalign, our office provides state of the art care in a family-friendly environment.
Smile Design in West Lancaster
Dr. Sanderson is an experienced dentist with a passion for helping patients feel great about their smile. If you have concerns about the appearance of your smile we offer personalized care for achieving your goals using Digital Smile Design. A unique software for cosmetic dentistry, Digital Smile Design enables Dr. Sanderson to effectively utilize digital imagery in the treatment planning phase for a more predictable result that is tailored to your unique facial features, jaw structure, and appearance. Using Digital Smile Design we can give you a "preview" of how your cosmetic treatment plan will change your smile.
Cosmetic dental treatments can include:
Restoring Smiles: Implant Dentistry
When it comes to replacing missing teeth with the most natural, comfortable and lasting treatment option, dental implants are considered the best choice for most patients. Dr. Hartoorian places all types of dental implants for the replacement of a single missing tooth to a full c=arch or complete set of lost teeth. We can also secure a denture with dental implants, a life-changing treatment for anyone suffering from a poorly fitted denture that slips.
Dental implants replace both the lost tooth crown and the tooth root, stabilizing bone structure in the jaw and preventing changes in the appearance of the lower face. A secure and stable restoration, dental implants allow normal biting function and facilitate confident speech.
If you have missing teeth Dr. Hartoorian can evaluate the condition of your smile and discuss your needs to determine if dental implants are right for you. We offer convenient payment options, including dental care financing to fit your budget.
New Patients Welcome
Smile Dental Group in West Lancaster welcomes new patients and looks forward to expanding our dental family. To schedule a visit with Dr. Hartoorian contact us at (661) 383-0186 or request an appointment online.