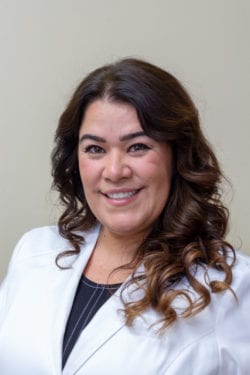 Dr. Vanessa was born and raised in Sao Paulo, Brazil. She received her Bachelors of Science in Biology and her DDS degree in 2001, from the University of Guarulhos in Sao Paulo, Brazil. While earning her degrees in Sao Paulo, Dr. Vanessa interned with the Brazilian Air Force and was part of a volunteer group that offered their dental services, free of charge, to those persons in the Sao Paulo area lacking sufficient dental care.
Dr. Vanessa relocated to the Antelope Valley and received her California Dental License. Shortly thereafter Dr. Vanessa completed a residency in Cosmetic Dentistry from Esthetic Professional, in Tarzana, CA. Almost immediately after Dr. Vanessa began practicing dentistry in the Antelope Valley, she quickly gained a reputation of being a well-trained Dental Professional as well as a highly skilled Cosmetic Dentist.
Dr. Vanessa's educational and professional background, along with her warm, calming "chairside manner" and "soft hands" has allowed her to provide a low stress, gentle dental care environment for all her patients.